The charming colonial town of San Miguel de Allende is every photographer's dream. Offering the perfect environment that awakens all of our senses… incredible light, vibrant colors, sounds of the music of this fascinating culture, and the bustle of life in a community filled with creativity. Life—la viva—is celebrated each and every day!
Located in the historic, central highlands of Mexico, San Miguel de Allende offers a gracious and safe environment for exploring the culture of this vibrant town. Travel + Leisure readers named it the #2 Best City in the World in 2022, right behind Oaxaca—our other Mexican destination this year.
Join us for an unforgettable learning experience in the beautiful setting of San Miguel de Allende.
Once your San Miguel de Allende workshop has been confirmed, the Administration office will email additional information about your workshop, including an invoice and general information containing details about booking your travel.
It is very important to confirm your workshop status before making travel arrangements. Travel to and from Mexico is quite straightforward. You need a valid passport and an airline ticket—the rest should be easy. There are daily, direct flights from various U.S. cities into the international airports at León, Guanajuato (BJX) and Queretaro (QRO) — both about 1 to 1.5 hours away from San Miguel. You can also consider flying into Mexico City (approximately 3.5 hours away). We recommend that you book your airport shuttle to San Miguel de Allende with BajioGo Shuttle. You do not need to rent a car, as San Miguel is a city that is best experienced on foot. Should the workshop travel to locations further from campus, Santa Fe Workshops arranges transportation for the group.
Our home is Hotel Posada de la Aldea, a charming hotel complex in the heart of San Miguel de Allende. Located just blocks from el Jardín, the central plaza, La Aldea offers comfortable, convenient hotel rooms, a restaurant, classrooms, and office space for our staff. Its extensive grounds, featuring beautiful gardens, fountains, a swimming pool, tennis courts, and secluded courtyards, provide a stimulating, private, and serene backdrop for photographing and enjoying the creative workshop process. The staff at La Aldea offers excellent customer service and attention to detail.
We highly suggest that you consider adding a day or two before (or after) your workshop. Past participants often comment that they would have loved some extra time in San Miguel to explore the town and the area further. Please also make note that San Miguel is located at an elevation of 6200 feet; it can take a day or two to adjust to the altitude if you are not used to it. If you would like to add extra nights at Hotel Posada de la Aldea, please let the Administration office know and we will arrange this for you (payment for extra nights will be collected with workshop balance).
Hotel Posada de la Aldea
Ancha de San Antonio 15
San Miguel de Allende, GTO Mexico 37760
Website: hpa.hotellaaldea.mx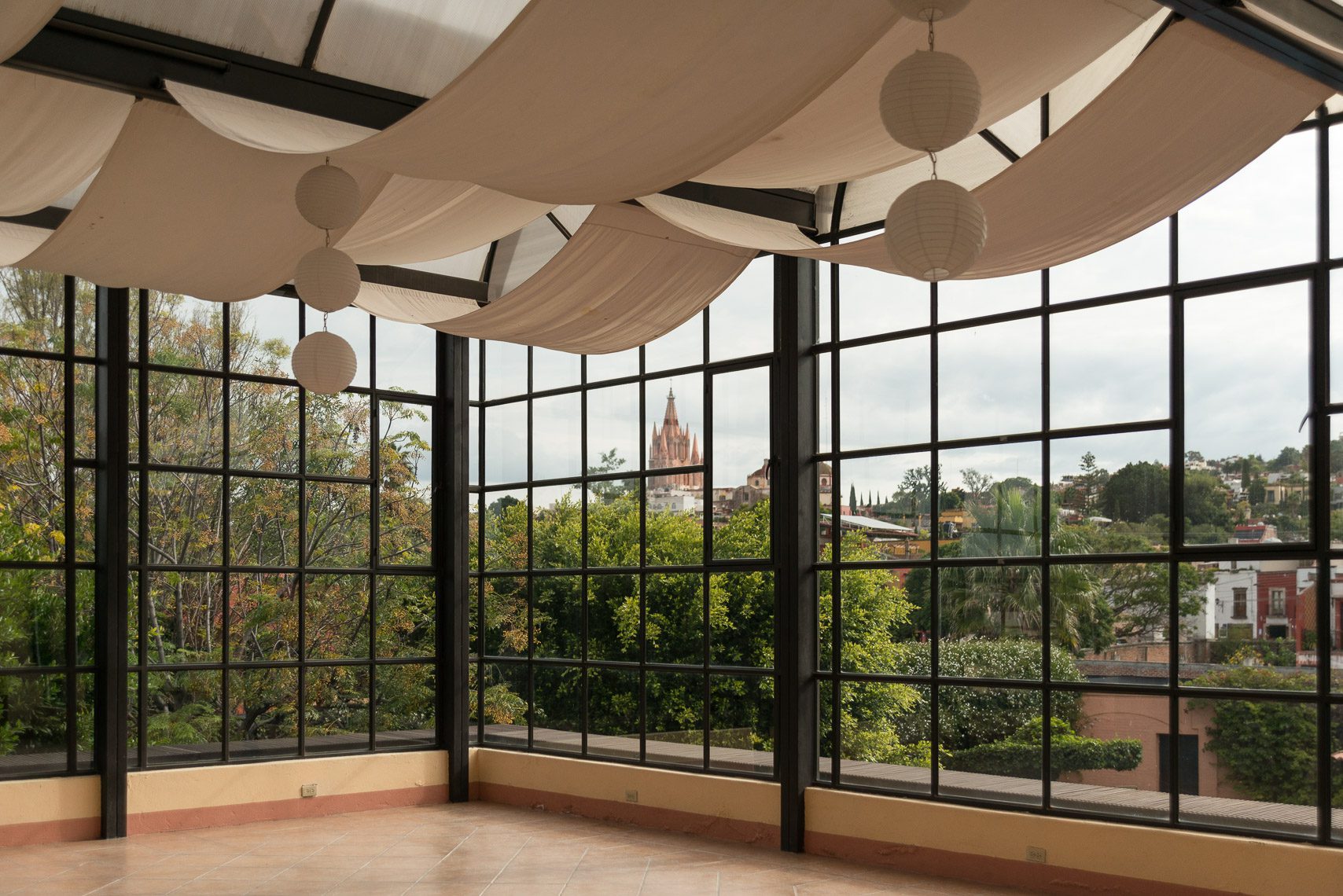 Since 2001, Hotel Posada de la Aldea, an enchanting hotel complex just blocks from San Miguel's historic central plaza, has been home base, with our administration and operations offices, classrooms, a restaurant, and comfortable accommodations for our travelers. La Aldea's extensive grounds—featuring gardens, fountains, a swimming pool, and secluded courtyards—provide a stimulating setting for your creative discoveries.
Hotel Posada de la Aldea offers convenient accommodations for workshop participants. The rooms are spacious, with private baths with showers (no tubs), daily housekeeping service, phones, and televisions. Wireless internet service is available on the hotel property however service can be spotty at times.
For 2023, here are details on the accommodations offered for our programs:
September 21 – October 10: For participants wanting to stay at Hotel Posada de la Aldea, double accommodations are $415 per person for 6 nights, Wednesday through Monday, (for couples taking workshops and friends traveling together) or $830 per person, single accommodations for 6 nights, Wednesday through Monday. Additional nights at the hotel can be arranged for participants; please discuss needs with the Administration Office in Santa Fe.
Participants can also choose to book their own accommodations in town.
Our meals together in Mexico foster an important group sharing and networking experience; they also provide convenience and a variety of good food. Vegetarian, vegan, and gluten/dairy free options are limited at the hotel.
For 2023, here are details on the meals offered for our programs:
September 21 – October 10: Breakfast at the hotel's restaurant is included Thursday through Tuesday. Lunches are served buffet style on campus Thursday through Monday. Also included is a final celebratory dinner at the end of the workshop week.
Take a closer look at San Miguel
Watch our inspirational video Inside San Miguel to get a preview of the beautiful San Miguel de Allende, and the festive time of year Santa Fe Workshops spends in Mexico. Please join us for a season down in San Miguel!